Thomas Ruggia
President & Chief Executive Officer
Thomas Ruggia joined Samsara Vision as the Chief Executive Officer in July 2020. With 20 years of ophthalmology business experience, he has a comprehensive and nuanced understanding of the health care environment in the United States and abroad, as well as significant experience in the development and commercialization of vision products with differing regulatory and pricing structures.
Before joining Samsara Vision, Mr. Ruggia spent five years at Johnson & Johnson, working at Johnson & Johnson Vision and The Janssen Pharma Co, respectively. Most recently at Johnson & Johnson Vision, he was the Vice President WW Customer Experience and Ocular Surface Disease, responsible for two global commercial teams working in customer strategy, customer service, and field technical service. At Janssen, he was the commercial strategy leader in ophthalmology assigned to an asset in development for AMD. Previously, Mr. Ruggia spent fourteen years at Alcon, a division of Novartis, working in a variety of ophthalmology sales and marketing roles with escalating responsibility. He graduated with a Bachelor of Science from The College of New Jersey in 1998.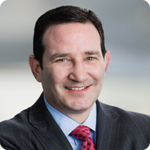 Josh Fox
Chief Financial Officer
Josh Fox joined Samsara Vision in January 2021 as CFO after serving as a senior advisor to Montminy & Co. and, earlier, as managing director, head of real estate, lodging, and leisure investment banking at Stout. In addition, Mr. Fox brings nearly 25 years of diversified investment banking and legal experience, having advised public and privately held companies on a wide range of topics including mergers and acquisitions, capital raising, financial restructuring, and strategic alternatives. He earned his Bachelor's in Business Administration from the University of Michigan and holds a Juris Doctor from Columbia University School of Law. Mr. Fox is registered with FINRA and holds the Series 7, 24, and 63 licenses.
Eli Aharoni
Vice President, Research & Development and General Manager
Eli Aharoni has been with Samsara Vision since its formation and is responsible for the Company's operations at its Petah Tikva, Israel facility. He has over 30 years of experience leading research and development programs, and a strong background in program management and mechanical engineering. Mr. Aharoni also has over a decade of experience in the Class III medical devices industry. Prior to joining Samsara Vision, his extensive background includes being Commander of a large research and development center in the Israeli military industry.
Mr. Aharoni holds a B.Sc. degree in Mechanical Engineering from the Technion-Israel Institute of Technology.
Mike Besserman
Vice President, Worldwide Marketing
Mike Besserman joined Samsara Vision in January of 2021. Mike brings to Samsara Vision nearly 20 years of commercial, ophthalmology marketing and sales experience stemming from time at both Novartis Pharmaceuticals and Alcon Laboratories, where he specialized in the cataract, dry eye, glaucoma and retina space. He has built and led several teams as a U.S. commercial sales leader and spent over five years helping to build and grow a Key Account Management Team focused on the largest and most complex ophthalmology accounts in the U.S. in both marketing and director roles. Most recently prior to Samsara Vision, he held roles in marketing and sales leadership for Novartis Retina, where he was part of the build and launch of the newest Anti-VEGF for wet age-related macular degeneration. Mr. Besserman earned his Bachelor of Arts in communication and marketing from Towson University.
Jason Herod
Chief Commercial Officer – Europe
Jason joined Samsara Vision in August of 2021 and brings over 24 years Ophthalmic Medical Device, Pharmaceutical and OTC business experience. Jason has lived and worked in Canada, USA, Switzerland and Czech Republic. He has successfully held many roles of increasing responsibility in Sales, Sales Management, Country, Regional and Global Marketing, Country General Management, and as the Franchise Head for Europe, Middle East, Africa, Russia for Alcon. Jason is the winner of sales, marketing, and management awards including as the General Manager of the top market in the company for sales growth and expense management. Jason earned a Bachelor degree of Commerce from Saint Mary's University in Canada and a Masters of Business Administration from the University of Toronto in Canada.
Rebecca Kammer, OD, PhD
Vice President, Worldwide Clinical & Medical Affairs
Dr. Rebecca Kammer brings over 20 years of experience in academia, low vision patient care, clinician education, endpoint development, and professional consulting. She is a world-renowned expert in low vision models of patient care and has conducted cutting-edge clinical trial research in retinitis pigmentosa (RP) and other retinal conditions. Prior to joining Samsara Vision, Dr. Kammer served as the Vice President of Clinical Operations at jCyte Inc, where she led the clinical studies for a cell therapy for retinitis pigmentosa. She also owned her own consulting firm that supported clinical studies of therapies and devices for visual impairment and retinal diseases. This support included extensive experience with the first-generation implantable miniature telescope. During this consulting phase, Dr. Kammer mentored clinicians in the practice of low vision rehabilitation while simultaneously founding the low vision service within UC Irvine's Gavin Herbert Eye Institute department of ophthalmology. Her earlier professional years included teaching optics and low vision at optometry schools and leading the low vision clinical department at the Southern California College of Optometry (SCCO). Dr. Kammer holds a bachelor's degree in Optical Engineering from University of LaVerne, a Doctor of Optometry degree from SCCO and a PhD in Higher Ed.